Digital marketing is a powerful tool for advertising endorsed by companies who want to gain popularity. Some of the most common digital media channels used in this process include search engines and websites. 45% of consumers start their inquiries on these platforms; 33% look at brand sites, and 26% use mobile apps.
Digital advertising is an enormous system of channels that marketers have to onboard their brands, but it's much more than just those. To achieve the true potential of digital marketing, you need to look deep into today's vast and intricate cross-channel world for strategies that will make an impact through engagement marketing.
Engagement marketing is a form of digital marketing that will engage customers in meaningful interactions based on the data collected over time. This type of engagement can help build brand awareness, set yourself as an industry thought leader, and place your business at the forefront when it comes to purchasing decisions.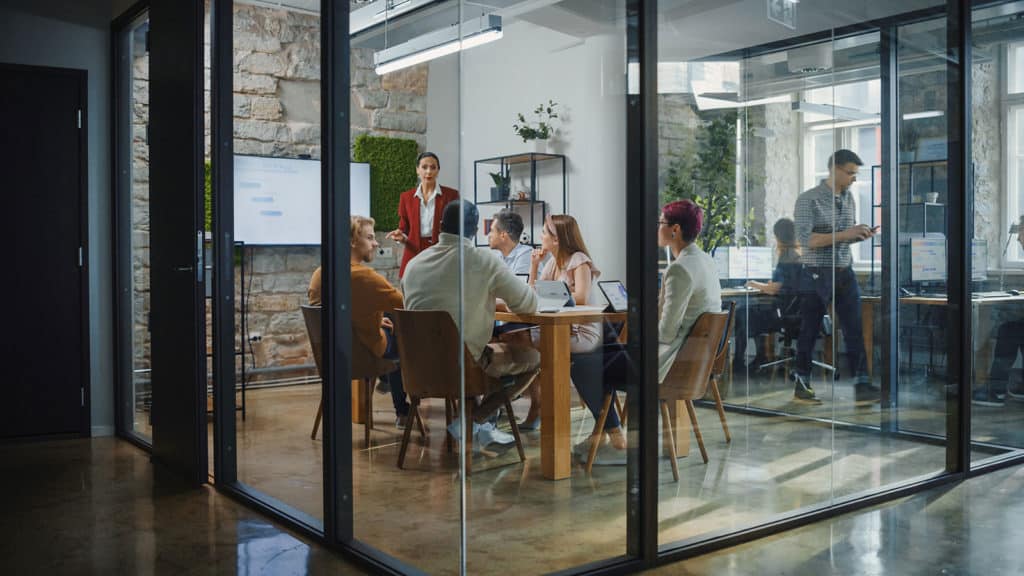 Marketers are constantly looking for new ways to connect with their target audience in a more personalized way. By implementing an omnichannel digital marketing strategy, marketers can collect valuable insights into target audience behaviors while opening the door to new customer engagement methods such as SMS text messaging and push notifications on social media platforms like Facebook Messenger or Instagram Stories. Additionally, companies can expect to increase retention by following this method because they'll have better insight into what customers want by combining data from different communication channels. According to a report by Invesp (a leading research firm), companies that use multichannel strategies retain 89% of their customers compared to those that rely on one channel, which only retains 33%.
There are many great things for digital marketers to look forward to:
Wearable tech is going strong.
Social media will be more versatile.
Video content will become even better.
It'll also get more manageable for email marketing professionals with personalization tools to provide tailored messages based on the customer's previous interactions with their brand.
Common problems that digital marketing can solve
There are many ways to be creative when it comes to marketing. Digital is one of the most important because you can learn about your audience and check metrics that will give credibility to your team in a way no other type of media could provide before.
Problem: I don't understand my audience well enough to get started. The best marketers know that understanding your audience is key to getting them on board with the idea of purchasing a product. Thankfully, there's an easy way around it: test different languages (or varieties) with other targets before deciding what will work best. To do this, you'll need time and patience – both things which are in short supply for most people! Your words can make or break credibility when dealing with customers who may be at any stage in their buying cycle, so don't risk blowing your chance by using the wrong language.
Problem: I haven't optimized my channels for SEO. Your campaign's success is contingent on the quality of your SEO. You have to ensure that you're delivering high-quality, valuable content by following a set of best practices to position for higher rankings and increased site traffic.
Problem: I don't have a social media plan. Social media is excellent for branding and engagement; however, it can also be used as an advertising channel if done correctly. Find the niche with your voice that works best for your company's needs and stick with it – from there on out, everything will fall into place! It would help if you had a social media strategy in place, regardless of whether you want to go organic or paid.
Problem: My marketing teams are siloed. It's essential to break out of silos to create elegant, fluid structures. Your customers aren't sequestered in one channel waiting for ads, so your marketing efforts must deploy cross-channel functionality with teams that bring multiple skill sets and expertise to the table – tailor each social network and channel based on its audience demographics because they'll have different expectations when it comes down to tone, imagery, offers or even time of day you post.
Problem: I'm under pressure from my CMO to report on metrics that support the bottom line. Digital marketing is becoming more and more complex. Several metrics can be used to measure the success of your campaign, but you should always consider who your audience will consist of before choosing which ones are best for each channel. This includes their goals when visiting different channels to find out how they may react or respond differently than others would with other types of feedback measurements such as clicks, impressions, reach, etcetera, so keep this in mind during any decision; making process!
Components of digital marketing
Digital marketing is a wild, web-like network of digital touchpoints — which your customers have to interact with every day. To make the most out of these channels, you need to understand each and how they fit together.
Paid search. Paid search, or pay-per-click (PPC) advertising, typically refers to the sponsored result on top of a SERPs. These ads charge you for every click and can be tailored to appear when certain words are entered, so your ad is targeted towards an audience seeking something in particular. These ads can be highly effective because they're targeted towards specific people who want whatever you offer at this moment.
Search engine optimization (SEO). SEO is the key to small business success. Without SEO, companies miss out on potential customers looking for their services or products and are willing to spend money! It's not enough to have a great product – you need people to find you in search engines when they're ready to make that purchase.
Content marketing. The best content marketing is not outwardly promotional but instead serves to educate and inspire consumers seeking information. When you offer content relevant to your audience, it can secure you as a thought leader and a trustworthy source of information that makes other advertising efforts more effective by cutting through the static in an age where buyers are self-directed.
Social media marketing. If you want to see the most ROI from your social media marketing, then every aspect of your campaign must be integrated with peer-to-peer sharing opportunities. For this process to work well and create maximum exposure, content needs to be powerful enough to inspire people by what they see online.
Email marketing. Email marketing is an effective way to get your message and content in front of potential customers. To be successful, you need to create engaging, relevant, informative, or entertaining emails enough not just for it not to get ignored by the recipient. Still, also so they'll read what's inside!
Mobile marketing. Mobile devices are more ubiquitous than ever, never leaving our pockets and being checked constantly throughout the day. This makes mobile marketing critical because two-thirds of consumers can recall a specific brand they have seen advertised on mobile in the last week! But while it is easy for marketers to reach their customers with SMS or MMS campaigns, coordinating your digital efforts across other channels should not be overlooked either.
Marketing automation. Marketing automation is a process for streamlining and automating marketing tasks. It provides valuable insight into which programs are working, helps you achieve your ROI goals faster by calculating digital campaigns' return on investment (ROI), allows marketers to speak about the success of their efforts from measurable data, and saves time through automated workflows that track results.
ROI of a successful digital marketing program
Modern marketing has changed from the days of banner ads and billboards. Organic content is now an integral part of any campaign, not just for social media but also in traditional forms like print advertising or TV commercials that try to capture a shopper's eye as they drive down the highway.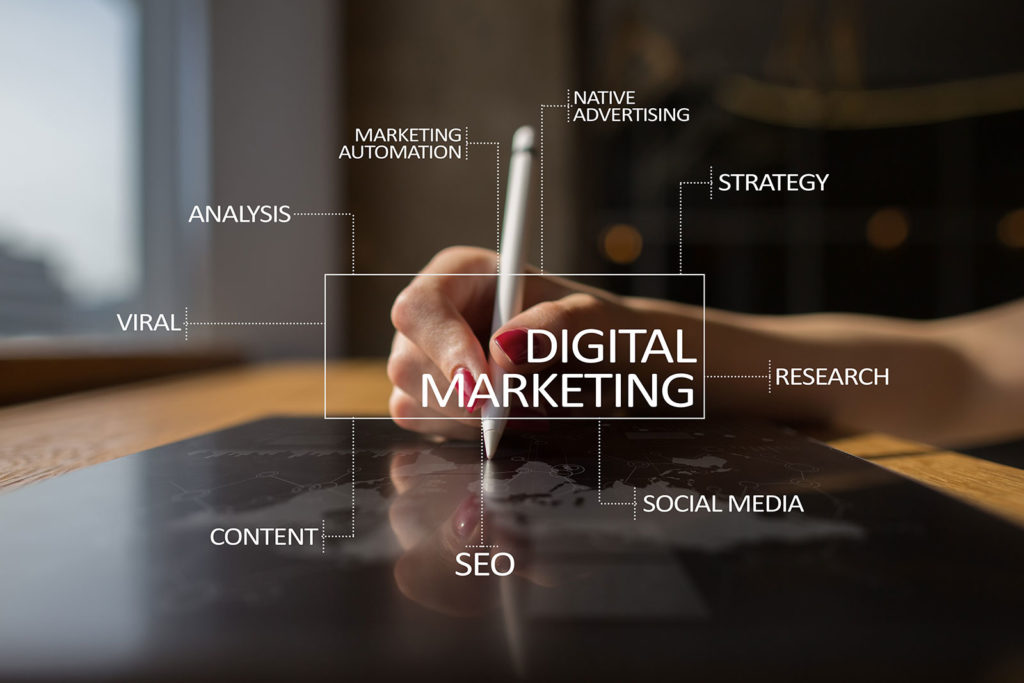 Digital marketing is more than just advertisements. Seventy percent of internet users want to learn about content versus traditional ads (MDG, 2014).
The best content marketing in the business is digital. The top five B2B content marketing tactics are social media (92%), e-newsletters (83%), articles on your website (81%), blogs, and in-person events at 77%.
Digital marketing is vital for SEO because the first organic search results on Google account for 32.5% of traffic share most searches.
Planning, implementing, and optimizing your digital marketing program.
The first step to a successful digital marketing campaign is determining your target audience and goals. This will help you measure the success of what you do to improve continuously as time goes on.
Step 1: Identify and segment your audiences. Not every buyer is the same, but today buyers expect a personalized experience across every touchpoint. To do this, you must understand their demographic, firmographic, and technographic attributes and address their questions or pain points.
Step 2: Establish goals and measurement strategy. Using audience information to make personas and establish your goals, measurement strategy, and metric strategies. Important metrics include impressions, reach, clicks; click-through rate (CTR), engagement rate; conversions cost per lead (CPL); effective cost per thousand (eCPM) as well back-end data like return on investment ROI or Return on ad spend ROAS, for example, are also used by marketers today when they advertise their products online with these websites that offer this type of services such as Facebook ads which enables the marketer to measure performance easily because you can track how many people clicked through from a display advertisement into an advertiser's website.
Step 3: Set up your adtech and channels. Ad technology can be a bit confusing, so make sure you're all set before you get started. Align your team and show how their channels fit into the big picture of digital marketing to create an effective strategy that takes everyones' goals into account.
Step 4: Launch and optimize. Digital marketing is a powerful and effective tool that can achieve many different goals related to acquiring, nurturing, and building customer loyalty or branding. Reviewing metrics regularly will help you know where there are areas of success to focus on those aspects while also improving the weaker ones.