With all of the changes in local search and Google Business Profile (formerly Google My Business), I get a lot of questions from my clients. Here are some of the most asked questions I have received.
How do I contact Google Business Profile?
You can contact GBP support is through this form.
Alternatively, you can find that same contact form inside the GBP dashboard:
Go to the bottom left corner and click on Support
On the right hand of the screen, click on Contact Us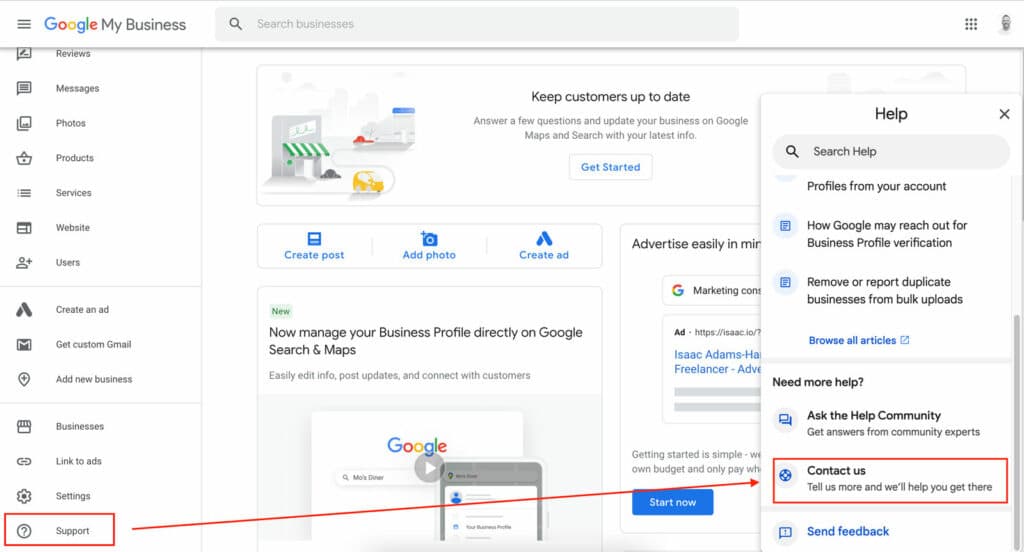 Added support: using the Google Business Profile Forum
You can't talk directly to a Googler on the forum but can get advice from the Google Product Experts who can escalate issues if necessary. The Google Business Profile Forum is peer-supported and managed primarily by a group of Product Experts that can escalate issues and cases to Google.
Shortcuts to Different Google Business Customer Service Support Forums
Can I turn off Google Business Profile (GBP) reviews?
No. There are, however, a handful of situations (e.g., schools or instructors) in which Google will occasionally turn off the ability to leave reviews on a listing.
How do I get a Google Review Removed?
Reviews will only be removed if it breaks one of the specific guidelines listed below:
Spam and fake content
Off-topic
Restricted content
Illegal content
Terrorist content
Sexually explicit content
Offensive content
Dangerous & Derogatory Content
Impersonation
Conflict of Interest
How do I temporarily close my Google Business Profile listing?
To get your Google Business Profile listing marked as temporarily closed, you can go into the Google Business Profile dashboard and select the "mark as temporarily closed" option under the info tab.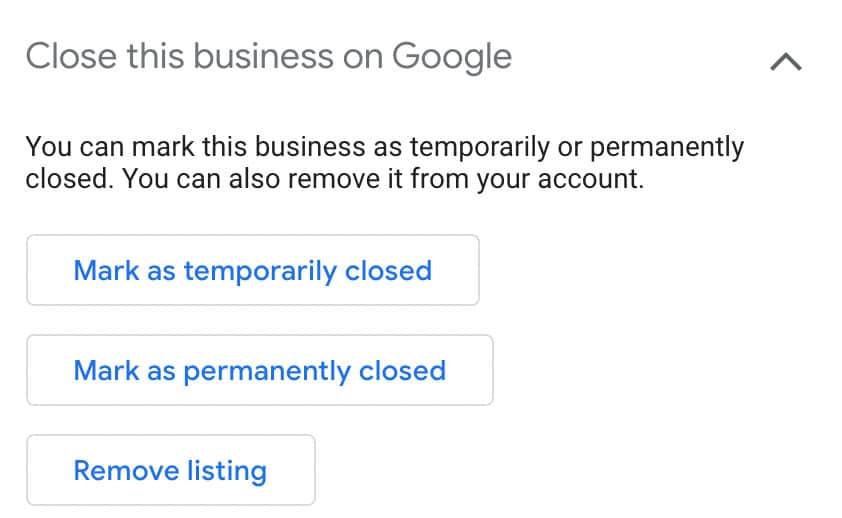 How do I remove the Temporarily Closed option in Google Business Profile?
If you want to re-open your listing after marking it as temporarily closed, follow the steps below:
Go to the Info tab inside Google Business Profile.
Right beside where you edit the address, on the right, click "mark as open."
Why should I embed a Google Map on my website?
A map will show a Google pin with a view of your business location, address, reviews, review stars, and directions, which is an excellent addition to your website. It allows visitors to your website to get an overview of your business in a matter of seconds.
It also helps:
Provides directions to your business.
It makes your business contact information is easy to find. They will be able to view your business address, phone number, directions, reviews, and review stars.
This can also help keep visitors on your site longer.
Does the Service Area in Google Business Profile Impact Ranking?
No. Like standard business listings, the ranking is based on the business's address.
How do I delete a review I wrote on Google?
Search for the name of the business you left a review for, and want to delete; click on the reviews section.
Your review should float to the top. Click on your username.
Click on the three dots next to the review you want to delete and click "delete review."
Do images impact rankings on Google?
Yes. Images can help your GBP rank higher in local search results.
Some tips to better optimize your photos:
Larger/better quality photos are better for ranking.
Having an image that matches what Google is looking for can have a positive impact on ranking. Having a photo that doesn't fit can have a negative effect.
The number of images that can contribute to ranking likely varies based on the query or industry.
Are coworking spaces against the Google Business Profile guidelines?
It depends. You need to make sure:
You must have a dedicated space.
Include a suite number, but not a made one up.
Add Permanent signage.
Employees must staff the location to service customers during working hours. Virtual office employees are NOT considered to be employees.
Phone numbers must be a direct line to the business.
How do I remove Negative Reviews from Someone that's not my customer?
You can have a review removed if any of these three circumstances have been met:
A review was left as a form of Extortion (you must include proof of an extortion demand)
Public Media Attention (leaving a negative review for your company and leaving a positive one for the competition)
Ex-Employee (you need to provide proof they worked there)
Does optimizing for "Near Me" work to improve rankings?
Optimizing your webpage for "near you," "nearby," and "near me" does have a positive impact on ranking.
This optimization positively impacts organic ranking and traffic for "near me" terms than it does for local ranking and traffic from the 3-pack.
Can Service Area pages with duplicate or similar content increase traffic?
Yes. Although a controversial topic, duplicate service area pages can help to increase visibility, traffic, and leads.
Can I turn off the Question and Answer (Q&A) section in Google Business Profile?
In most scenarios, businesses cannot be turned off or disable the GBP Google Q&A feature on their listing. Only in rare cases where a large number of Q&A spam/abuse will Google disable the feature.